Welcome!

Welcome to Promotional Products Ottawa!

We have proudly been serving Prescott to Renfrew, Lanark to Nepean since 1999! For over 100 years, companies of all shapes and sizes have been using promotional items to reinforce their presence in the marketplace. Promotional Products Ottawa based right here in Canada, has been proudly serving companies large and small for over a decade. We will work with you to find the best solution for your needs. Our goal is to source products for you to help produce amazing results.

We are recognized as one of North America's leaders in the art and science of getting your company noticed. Let our team of experts be your guide in selecting the perfect promotional product this time and every time.

New businesses must work harder than established ones to position themselves prominently in an increasingly crowded marketplace. Even the best goods and services won´t sell if clients are unaware of them. Promotional products imprinted with the company´s name and logo give customers tangible and frequent reminders of a company´s value.

According to a 2008 Advertising Specialty Institute study, recipients of promotional products had greater recall of a company´s name than of similarly placed company names from television, radio, or newspaper advertisements. Promotional gifts also last longer than other advertising media. Clients use branded items thrice weekly on average and for an average of seven months; that compares favorably to the few times per month that potential clients are exposed to advertising via radio or television. The price of promotional items is minimal compared to other forms of advertising and may even compare favorably to the price of premium printed business cards.

However, not all promotional items serve the needs of a new business equally well. A new venture requires name recognition; clients cannot ask for the business by name until they know what that name is. Gimmicks and toys catch clients´ eyes, but may not be ideal for a business seeking to build initial name recognition. The primary considerations when choosing products to promote a new business are understanding how the client will use the item regularly and ensuring that the item´s association with the business is a positive one.

Utilitarian items make ideal promotional gifts for new businesses. Consider what prospective clients do during the course of a day and where they are most likely to use the items. Pens and notepads bearing a company´s name and contact information keep that business in the client´s mind every time he or she jots down a note at home or in the office. Calendars are another popular promotional gift; few offices are without one and most are checked several times daily. A branded car caddy or cell phone holder would be good options for clients with long commutes.

Specialized promotional products, while initially more expensive, link a company´s identity with the item. For example, a software design firm might invest in branded USB flash drives, a gift that is both practical and tech-savvy. A manufacturer or distributor of dietary supplements could offer printed pill-cases to emphasize the company´s association with health. Fashion designers and consultants may opt for wearable promotional gifts featuring a decorative logo. Printed sheet magnets designed for refrigerators would be well suited to appliance repair services or pizza delivery. Coffee mugs are a natural promotional gift for a new coffeeshop to give to its customers.

Quality is key when choosing promotional products. No company wants its name associated with the pen that doesn´t write or the shirt that falls apart in the wash. New businesses must be especially careful to choose well-made promotional items that make a positive first impression. An initial investment in sturdier merchandise guarantees that the promotional item sees more use, and more use means a longer advertising lifespan for branded items. While promotional gifts are free to clients, they are not free to the business that bought them; buy quality to ensure that the company´s marketing budget doesn´t wind up in the trash one cheap product at a time. Reputable promotional product manufacturers willingly provide samples upon request without requiring a full order.

We hope you'll give us a try. The opportunity to quote is all we ask! Why not get a competitive price from a supplier who's been proudly serving your market for over a decade! We will be sure to get back to you as quick as we can!

Your quote requests and inquiries will be handled by our promotional experts located right here in North America, who are dedicated to providing the right product, at the right price for the right promotion of your brand. If you would rather you can always call us toll free and we'd be happy to talk you through the best options for you.

Need something in a rush? No problem! With over 3000 rush products available that are guaranteed to ship next day, with your logo on them, we can take care of you. From USB drives to Portfolios, from Travel items to pens, we've got you covered.

Promotional Trends

Effective purchasing of promotional items needs to take into account important factors such as seasonality, fashion, and the latest trends. If this sounds like too much work, we can take care of all of this for you. We know what's hot and what's not, what next year's colors are going to be, and what was hot last year. Some of today's hottest trends are:

#1 – Eco friendly promotional items. With the increased focus on buying local, global warming, and other recent economic factors, making sure the products you distribute do not harm the environment is key to many organizations. People are becoming more aware of the degrading environmental situation we are in, and you can help them do their part. Whether you are a major supporter or not, there is no denying you do have an impact on the environment and can help your business with the times by choosing an eco-friendly promotional alternative.

#2 – Seasonal colors, and up-to date styles How many times have you given out that same tired polo shirt to the same people at that same golf tournament. Get with the times and this year's style by calculating exactly how much product you will need. While you are there, make sure you get women's styles and cuts for women, and men's styles and cuts for men. Unisex styles are no longer acceptable, and no one ever wore them anyways. If sizing and gender breakdown are too complicated, go with this year's fashionable tote bag, or a pen set. Something that everyone can use.

#3 – Functional promotional items that have the latest technology built right in There are amazing promotional solutions on the market today. Basic promotional ideas such as simple ceramic mugs that have logos that change color when hot or cold beverages are poured in, or utilizing "super sticky" post-it notes for those situations when the normal adhesive just isn't strong enough. Regular products with a twist can make your promotion stand out from the crowd.

With over a decade of promotional experience and clients who make up a large part of the "who's who" list in the Fortune 1000, we can make things easier for you. The process of buying promotional products does not have to be difficult or time consuming. We want you to know at some point in the past EVERY SINGLE CLIENT was in the exact same position you are in today: They used to work with another promotional company. Unfortunately for one reason or another that other company disappointed them. So they decided to contact us. We Guarantee our orders, we Guarantee our order quality, and we have an additional 5% Free Goods Guarantee. They have all been loyal clients ever since.


Featured Item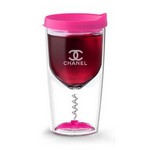 Vino Opener Tumbler
The Vino Opener Tumbler has all the great benefits that you know and love from the Vino2Go. Now with an added "Twist". It features a high quality plastic cup with double wall insulation. It has a slid...